PRINCESS FREESIA - THE RAINBOW RIDE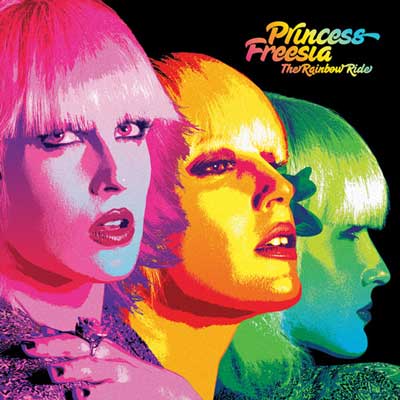 "Fresh (or Freesh) from the success of her collaborations with Soulpersona, Princess Freesia releases her eagerly anticipated debut album "The Rainbow Ride" a luscious and lavish collection of soul / jazz / raregroove gems, all written and produced by the lady herself!", zo luidt 't intro van het persbericht over Freesia's album, dat op 30 juni uit zal komen. Niks gelogen! Dit album, verdient een plekje in de collectie van iedere liefhebber van soulful music.
Princess Freesia deed al achtergrondvocalen voor o.a. Leon Ware, Jean Carne, The Jones Girls, Ben E King, Sheree Brown, The Valentine Brothers en Barbara Mason, maar heeft een speciaal plekje in ons hart veroverd, bij de jocks van AFC.FM, sinds de OW WOW plaat van Soulpersona, 'Alright', waar ze samen met rapper Replife, de vocalen op zich nam, en waarvan wij de Loose Ends Remix tot Future Classic bekroonde, en nog steeds wekelijks draaien! Kippenvel! En als je het over Future Classics hebt... DIT is er weer eentje! We kregen vier niet nader te noemen tracks opgestuurd, waarvan we 'It's gonna be alright' kozen als 'FC' van deze week. Zelf zegt ze erover: "A playful "four to the floor" disco infused delight!". Wederom, niks gelogen! WOW! Je hoort de track dit weekend ieder uur, op het 'even' uur. FEEL THE FUNK!
Jocelyn Brown (Singer/songwriter) on Princess Freesia: "Princess Freesia is one of the baddest singers I know!! She can sing her butt off!!! She's not only just a singer, but also an amazing producer in her own right, who writes the most amazing songs and picks up on beautiful melodies and hooks. I love her and I'm very proud of her, I'm extremely proud to know her and she's my little sister!"
Soulpersona (Producer, Founder of Digisoul) on Princess Freesia: "One of the best albums I've heard in years, Princess Freesia is one of the most gifted writers and singers i've ever witnessed, her vocals are always stunning, captivating and on point. This album is a beautiful journey of material that encapsulates what my label Digisoul is all about. When you listen to The Rainbow Ride, it's like being transported through the wondeful and complex mind of Princes Freesia, which is something I'd recommend to anyone who loves good music!"